Don't just take our word for it, read through our ever-growing list of recommendations and client testimonials to see just how much we value them and work hard to make their dreams a reality.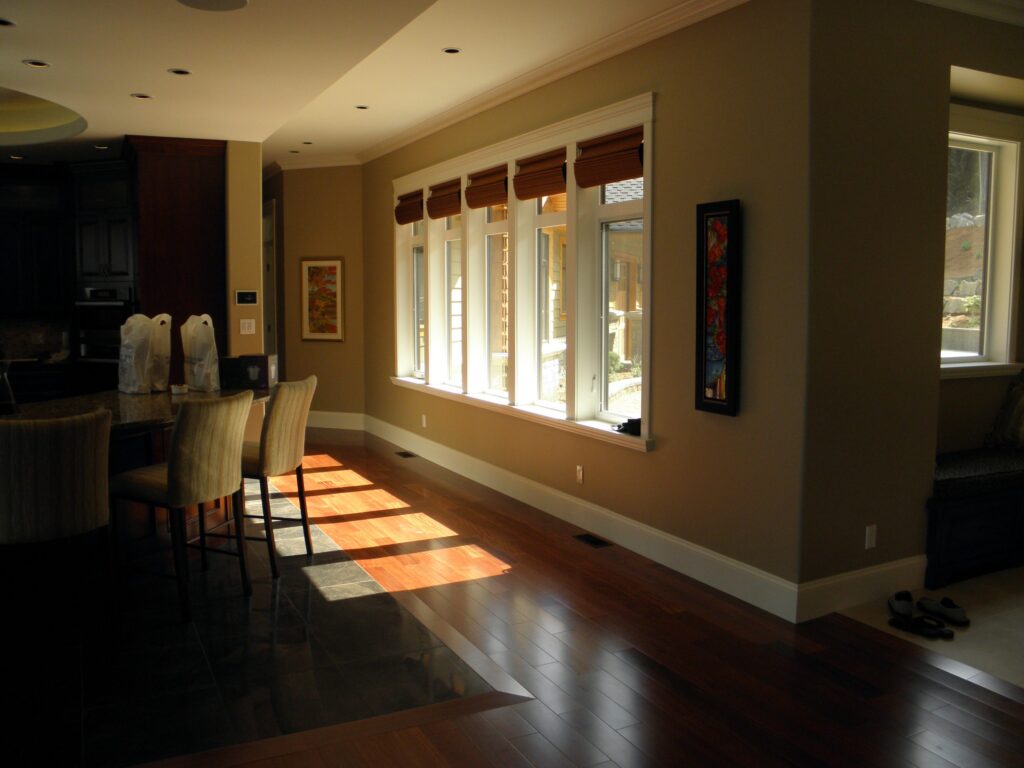 We recently moved into our new waterfront home that Somenos Construction built for us. We are very happy with the project from design to finish and are pleased that the process went smoothly form the start. The Somenos team was a pleasure to deal with and helped us with many of the decisions required along the way. The quality work done was appreciated and even commented on by various friends who viewed it during construction.

D'Arcy has years of experience and the ability to envision how a build will tie into the terrain, and therefore could offer advice. We have no hesitation recommending Somenos Construction.
- Wayne Gourlay/ Lynn Crowe
We have been working with D'Arcy Beaveridge and his Somenos Construction team for the past year; we are now in the final stages of construction on our Maple Bay home.

Somenos Construction has consistently demonstrated a strong work ethic and a dedication to success; the efforts of the entire team have produced high quality results. The project to date has been running very close to the initially projected schedule and budget, which are key indicators of a well-managed project. Our working relationship with D'Arcy and his team has been wonderful. I can't say enough about the professionalism and the easy, relaxed manner in which they approach the many decisions that they need us to make.

For these reasons, we highly recommend Somenos Construction for any construction project.

Best Regards,
- Bryan and Heather Emslie
I have engaged Somenos Construction for my building needs at my former business (Steel Pacific Recycling) and personally over the last 20 years. I have found D'Arcy to be professional and efficient. They recently totally renovated my home and built a new 2500 sq. ft. building on my property.

I included them on the initial planning and design. There practical knowledge and experience in working with the designer and myself proved to be of great value, and was a critical part in keeping the project on time and on budge. I am truly very happy with the end result of there work. I found Bob to be easy to work with, and I was confident that he was aligned with my best interests.

I would with confidence recommend Somenos Construction for all your building needs.
We worked with Trudy through two lots, and many changes, to arrive at our final plan. Trudy is professional, prompt, and has an eye for detail. Trudy listened to what we wanted and then put our ideas to paper and also provided some alternate ideas and suggestions. Trudy patiently worked through many revisions with us, which has resulted in a plan that we are confident will create out perfect retirement home. I am excited to see our home grow from the ground, as our project gets underway.

Thank you Trudy!
We are absolutely delighted with the West Coast style house that Somenos Construction built for us.

Our build site was on undeveloped, 'off the grid' land which required Somenos to oversee the land development (tree felling, well drilling, septic field and land drainage) as well as deal with the environmental and government permits involved in a water front build.

D'Arcy and his team, as well as the various Somenos sub-contractors & suppliers, were excellent to work with. Their craftsmanship, integrity and attention to detail exceeded our expectations.
- Cindy Garneau & Jeff Dalgliesh
I built my original home on a large lot overlooking Cowichan Bay in 1969. Three floors and too many stairs. I didn't want to leave my lot as health issues caught up with me so I reluctantly subdivided and planned for a new home with less stairs. We needed something that would preserve the view of our original home but provide space for a new home more suitable to out elderly needs. We talked to three contractors and decided D'Arcy and Somenos were the best choice. We had our own ideas on floor plans and Trudy improved on them. The result is a lovely home more suitable to our current needs with everything on one floor and a basement for the workshop and the much loved Man Cave.

Bob Kaiser supervised construction to perfection along with team members Evan, Will, Greg, Luke and all the others, everyone a professional. Local quality sub-trades were used to complete. We enjoyed their company at lunch breaks while they shared their experienced input as they proceeded to build.

Claire and I are so pleased and satisfied with every aspect of our new home. A big thank you and a lot of respect to your wonderful office staff, always ready with answers or helpful suggestions to our queries. We are so lucky D'Arcy Beaveridge and the Somenos Team had time for us and accepted our build.

Three other homes in our immediate neighbourhood were also built by Somenos Construction, which impressed us and made our decision easier to go with Somenos. Thank you D'Arcy Beaveridge and your wonderful team of qualified tradesmen. Everything is perfect.
Sincerely,
We began with a list of three builders to interview that had been recommended to us. But after meeting D'Arcy of Somenos, and seeing one of his jobs with the well experienced crew at work, we cancelled the other two interviews. Since Mike had been a builder himself years ago, he had drawn up the basic plan for our duplex and then worked with Somenos home designer Trudy McAdam, who developed the final plans with patience and expertise.

As we live 800 miles away, and could only be on site for a few days each month, it was imperative that we had a builder that was a good communicator. So through the process, we made use of email and phone calls to stay abreast of the building progress, and to discuss decisions as needed. Our lot is sloped and was challenging to work on but they managed to excavate, landscape and build on the steep building site so that the final result is beautiful. D'Arcy and job foreman Luke Baker, were always available to us as well as being "hands on" and practical, and the whole crew embraces the values of honesty and hard work.

We are really proud of the final result of our stylish duplex and Somenos Construction made it happen for us.
For anyone wanting to have their dream home become a reality you will love working with Trudy. She took our rough sketches, scribbles, magazine clips and ideas and created a home design that exceeded our expectations. Trudy was so patient and took the time to get a real sense of what we wanted and how we lived. She has a great design sense and offered us lots of options throughout the design process. We were so excited when Trudy had our first plan draft to us in record time and was happy to "tweak" and make revisions so that we got exactly what we wanted. The final plans that Trudy had for us were perfect and when we submitted our plans to the Cowichan Valley Regional District we got our building permit right away. Thank you Trudy!!
We are delighted to recommend Somenos Construction to anyone for their building project. In 2018, Somenos completed our beautiful little semi-retirement home in Cowichan Bay. Although our house is only 1300 sq. ft., Somenos treated our build with as much importance as any larger property. In fact, we were amazed at how quickly and efficiently our house came together. At every stage of the build we were aware of what was happening, and any errors were quickly tweaked or remediated.

One of our concerns when initially choosing a builder was that we were technically out of town buyers. Although we were only in Victoria, we knew we would not be available to be on site if needed during the week, and so it was of great importance that we could trust our builder. Prior to our build, we got four quotes from different local companies. Somenos was not the cheapest, but they absolutely instilled the most confidence. We were not disappointed! If you are an out of town buyer, we cannot stress enough how grateful we were for the experience and expertise of Somenos Construction. They are excellent with communication, and, in the end, they actually came in a bit under budget!

Thank you to Jane, coordinator extraordinaire, for keeping us on track as the project progressed and for communicating with us from afar. Also, a very special thank you to Bob, who managed our build on site, and who was just so great to work with. You are all excellent at what you do.
We are very happy and satisfied, now living in our beautiful new home. From our first meeting with D'Arcy and the follow-up to confirm a contract to build, working with Somenos Construction has been a most positive experience.

The initial building estimates matched very accurately with monthly invoices. The commitment of so many long-term employees says a lot about Somenos Constuction's good relations with staff. The skilled and experienced staff were all very easy and comfortable to work with. They were very open with offering suggestions or adjustments to accommodate changes on the fly. Working with local sub-trades was equally positive.

Bob, Greg and Luke's rapport with local sub-trades led to smooth and seamless stages of the build. We appreciated the full service offered by this company from initial planning and obtaining permits through the building process and site development.
- Maureen and Colin Collister
Somenos construction and Trudy McAdam Design collaborated on the build of my mom's beautiful home in Maple Bay, so it was a no brainer for us to consider their services in the build of our home on the lot right next to my mom's place.

From the outset, D'Arcy (Somenos Construction) and Trudy poured themselves into our project. It was their personal, yet professional approach that made it an easy choice for us to choose them over others in the Cowichan Valley (not to mention their long resume of beautiful, solid builds). They considered the lot and surrounding properties (including my Mom's place), as well as our design preferences to come up with options that were not only within our budget, but also surpassed our expectations in terms of architectural originality.

With respect to design, Trudy responded to our ideas—no matter how ridiculous…and we had loads of ridiculous ideas—and came up with blueprints and 3-D models that really helped us visualize what we were seeking to build. D'Arcy too was always there to provide immediate advice and suggestions from the building perspective. As a result, the design process was efficient, yet also satisfying as we felt we were getting the home we'd always visualized. I can't imagine going out and paying tens of thousands of dollars for home design and then shopping around for a builder—that seems like an approach that would eat through a lot more money that it needs to, not to mention possible tensions and other challenges that might emerge between designer and builder.

As for construction, D'Arcy stated from the outset that he expected to build our home in accordance with the budget he presented to us—and he was true to his word! Along the way, he made suggestions for us to save money here and there, which then allowed us to spend some extra money on other parts of the home, such as our ensuite. Somenos construction is noted for being a premier construction company and when working with D'Arcy you can see why: he is a calm, methodical builder who takes pride in what he does. D'Arcy's leadership and expertise extends to those around him. His crew is fantastic: they have worked for D'Arcy for a long time and they too have a lot of pride in what they build. Put simply, Somenos construction is a first-class company through and through. I should also add that our home—from design to occupancy—was completed in about 9 months. We had a hard deadline for occupancy: early September when our kids were set to start classes at their new elementary school. The whole process was completed with more than a week to spare.

We have now been in our wonderful home for about a year and I can tell you that not a day goes by where my wife and I do not thank the heavens above that our home was built by Somenos Construction and designed by Trudy McAdam. What a great experience it was! If we are ever fortunate enough to once again build a home, there is no question as to who we'll turn to for the design and build. Simply put, D'Arcy, Trudy, and the whole Somenos team are great people who make awesome homes.
Trudy has gone above and beyond to prepare plans for our development variance permit for the renovation of our 1911 character home. She became our liaison with city planning, expertly navigated the system, and delivered detailed plans that received unanimous approval on schedule and on budget. She is professional, skilled, creative and lovely to work with. I highly recommend Trudy McAdam Design.
- Leonard Weaver and Gail Caryn
Trudy was already a friend of ours when we purchased a lot in Mill Bay, so we were happy to engage her in helping design our dream home.

The lot was unusual in that half was flat, on top of a bluff, while the other half was steeply descending the hill. Clearly, the house would have to sit on the top half, taking advantage of the commanding views. The task, then, was to design a structure to take the best advantage of the 240 degree view.

Sitting down with Trudy and the builder, D'Arcy Beaveridge, my wife and I shared our views on what we wanted – an "open-plan" main floor, encompassing kitchen, dining room and living room. Trudy and D'Arcy then set about some initial design plans, utilizing Trudy's imagination and D'Arcy's considerable experience. Over the next two months, the plans developed, with Trudy reacting to our requests and to D'Arcy's advice on construction techniques.

One major element of the design is a vaulted spine in the ceiling running down the centre of the house. It helps blend the two halves of the house, which are obliquely aligned to each other. This feature is a construction highlight and attracts many professional plaudits.

As the building started, we were kept in full communication about the potential problems and changes in the construction. As the construction began to take shape, we were able to see some of the smaller details. For instance, Trudy alerted us to the original design of the lower floor bathroom. As this room was not rectangular, it presented difficulties in arranging the fixtures to the greatest personal convenience and use of space. As we first saw this bathroom in the initial framing, we were able to, with Trudy's help, make minor adjustments to the lay-out of the room.

Six months later, the house was finished and we moved in. Everything has exceeded our expectations; we are very happy with the design. We are grateful to Trudy for the professional care and attention to detail she exhibited throughout the design and construction of the house.
I interviewed several building contractors before selecting Somenos Construction to build my water view home. Somenos had been highly recommended by many people; however, what especially stood out for me during my initial conversation with D'Arcy Beaveridge was his pride in the excellence and integrity of his team.

The Somenos Construction team is made up of exemplary professionals who have worked together for upward of 30 years. The team members are highly skilled, knowledgeable, hardworking, amiable, patient, flexible and creative. The main crew did the initial forming, framing, installation of trusses, interior carpentry, finishing carpentry and driveway forms. For sub-trades and suppliers, Somenos had a strong base of loyal and experienced professionals whose quality of work and attention to detail matched their own.

Communication from all parties was excellent, with every question patiently and thoughtfully answered. The work schedule was regularly updated and a monthly summary provided. The budget was very close to the original estimate. In fact, due to creative and innovative cost saving suggestions, we finished under budget!

As a client, I felt very supported during the entire building process and I trusted the Somenos Construction team unreservedly, which I realized early on to be a very important part of the working relationship.

The Somenos team has built me a beautiful custom home to the highest quality and standards. I know my home will last a lifetime. The best thing is that the Somenos team is as proud of the finished product as I am.

I highly recommend Somenos Construction for any building project and I would use them again without hesitation.
Trudy designed our home from an interior plan I had drawn out. Her knowledge and expertise turned my vision into a beautiful home! Working with Trudy was enjoyable she was prompt with returning emails and calls and was realistic with the timeline. Communication was clear and thorough. Each question I asked was specifically answered. Trudy made great suggestions and helped to keep us within our budget for building. We are thrilled with the final plans
- Francene Benoit and Chase Robertson
Ready to Build your dream?
We'd love to hear from you!